Known as one of the best preschool programs in Islamabad, Early Years at Westminster is the first choice of local and expat millennial parents. Our Early Years' learning spaces are safe, warm, friendly and inviting. Each indoor and outdoor learning area is immaculately decorated, clean, safe and inspiring. Some parents describe it as a home away from home, and that makes us feel really proud.
A Lifetime of Learning Begins
The Early Years Foundation Stage is where a lifetime of learning begins. Every child deserves the best possible start in life and the support that enables them to fulfil their potential. Children develop quickly in the early years and a child's experiences between birth and age six have a major impact on their future life chances. Good parenting and high quality early learning together provide the foundation children need to make the most of their abilities and talents as they grow up. At Westminster we are committed to support your child achieve his/her maximum potential by becoming a successful learner, a confident individual, a tolerant person and a responsible citizen.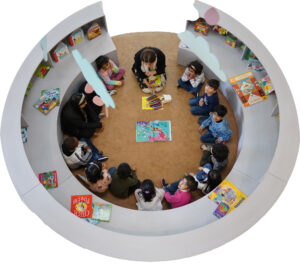 Teacher Student Ratio
The positive effects of a smaller student-to-teacher ratio are the most apparent in early years education. The benefits that students experience from small class sizes during their early years of education will follow them, even if their class sizes increase as they inch toward graduation. With this in mind, our teacher to student ratios are:
Age Groups
The child must be 2 years of age by August 31 of the current school year to be considered for pre-Nursery.
The Westminster Early Years programme caters to children from 2-5 years of age.
The age bands we follow are:
Age (on August 1)
Pre-Nursery: 2 Years Plus
Curriculum
Our teaching is based on the English National Foundation Stage curriculum and is delivered through a multi-sensory, play-based approach.
The Early Years curriculum is designed to inspire and challenge each child's natural ability to learn.
Four guiding principles that shape our approach are:
every child is a unique child, who is constantly learning and can be resilient, capable, confident and self-assured
children learn to be strong and independent through positive relationships
children learn and develop well in enabling environments, in which their experiences respond to their individual needs and there is a strong partnership between school and parents
children develop and learn in different ways and at different rates.
Areas of Learning
Well-planned play is a key way in which children learn with enjoyment and challenge during the early years.
Children aged two, three, four and five are constantly encountering new experiences and seeking to understand them in order to extend their skills, develop their confidence and build on what they already know. Children deepen their understanding by playing, talking, observing, planning, questioning, experimenting, testing, repeating, reflecting and responding to adults and to each other.
We plan learning experiences of the highest quality, considering both children's needs and achievements.
There are seven areas of learning and development that shape our programme. All areas of learning and development are important and inter-connected. Three areas are particularly crucial for igniting children's curiosity and enthusiasm for learning, and for building their capacity to learn, form relationships and thrive. These three areas, the prime areas, are:
Communication and Language
Physical Development,
Personal, Social and Emotional Development.
We support children in four specific areas, through which the above three prime areas are strengthened and applied. The specific areas are:
Literacy
Mathematics
Understanding the world
Expressive arts
Reading Programme at Westminster
Cultivating a lifelong love of reading
"The whole world opened up to me when I learned to read"
 Mary McCleod Bethune
We strongly believe that reading is the key for lifelong learning. It fires up a child's imagination and stimulates creativity. In order to instill the love for reading, we have a unique open library which is a dynamic place where students come to learn and explore. Our reading coordinators inspire students to learn beyond the classroom and help facilitate diverse life skills, curiosity, innovation and critical thinking.
Our teachers employ the appropriate strategies for each grade level and vary instruction to make the reading lessons interesting and enjoyable. These strategies include shared storytelling, role play, simulations, demonstrations, reading aloud, shared reading, independent reading with leveled texts, learning logs and journals, literature response groups, use of charts and organisers, use of dictionary and group research projects. The teachers ensure that the environment is rich in print by making use of word walls, labels and vocabulary lists that are tied to the content being studied in class. Students are provided with plenty of high-interest reading material and are asked questions that promote higher order thinking. The overall aim is to make students enthusiastic about reading stories, poetry, drama and non-fiction and media texts.
Our rich and well-developed curriculum challenges the students to consistently exceed standards and expectations. The goal is to inspire each child to think and to learn, and to give life to learning. Assessment and evaluation at Westminster reflect a partnership between families and school in which parents and teachers work hand in hand with children to help them make continuous progress towards their fullest potential academically, socially, culturally, emotionally and physically. To regularly monitor progress, students are assessed frequently through an effective system of monthly, mid-year and end of school year tests and examinations.
"Always Walk through life as if you have some things new to learn."